Helix™
FABGUARD media used in patented Helix™ treatment systems has been registered by the U.S. Environmental Protection Agency (EPA) for reducing coliform bacteria in stormwater, industrial wastewater and municipal wastewater applications. Read The Article.
High Flow Filter System
The Helix™ is a new generation of stormwater filter that applies Fabco's proven FabGuard™ antimicrobial filter media in a scalable vault configuration.
Effective Two-Step Treatment Process
The Fabco Helix™ is designed with a two-step treatment process that incorporates an inlet chamber used to reduce clogging from sediments and debris, and a secondary treatment chamber that houses Fabco's Helix™ filter elements. Coarse material contained in the stormwater runoff is captured upfront in a chamber designed solely for that purpose. This sediment separator treats water at higher flow rates and can be serviced from surface level with a Vac-truck. The pre-treated water exiting the first chamber will keep the Helix™ filters cleaner, helping maintain flow rates and effectiveness while minimizing the need for maintenance.
Patented Helix™ Filter Technology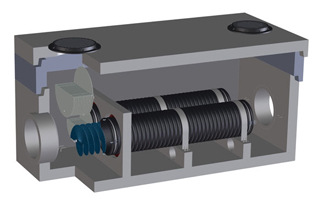 To treat high flow rates of water Fabco developed a new Helix™ filter column. (See 2 column design in image at right).
The horizontal filter column design provides great flexibility for selecting the appropriate filter length and diameter for a given flow rate. The helix elements inside the column(s) function like a multiple disk filter providing tremendous surface area for treatment. The spiral form offers multiple flow paths through the filter maintaining flow rate while significantly reducing clogging potential.
Each Helix™ filter column has a designed treatment flow rate of approximately 3 cubic feet/sec. Currently 3 models of Helix™ are offered: single, double and triple column systems. Filter cartridges are replaceable and can be accessed though the standard 36″ diameter manhole provided in the vault.
For safety purposes each Helix™ filter column is supplied with an inlet diffuser which is designed to keep any debris that passes through the sediment separator out of the filter column. Of course as a final precaution, each Helix™ also incorporates a full overflow bypass.
Images
Videos
Literature
Sizing, Install/Maint
Filter Config.
FABSORB™:  An Oil absorbent fabric material for treating both free and emulsified oils, greases and other hydrocarbon-based compounds. This non-woven, filter t can absorb 10 to 20 times its own weight in oil, greases and hydrocarbons
FABGUARD™:  Antimicrobial Shield is a patented chemical technology that when applied to our foam material makes it antimicrobially active. The FABGUARD™ Antimicrobial Shield becomes an integral part of the material and will not wash out, or leach into the environment. Microorganisms that subsequently contact the material are neutralized.
FOAM BASE:  Fabco utilizes a proprietary, reticulate foam material for the basis of many of its filter products. Reticulated foam is a versatile material that can be fabricated or combined with other materials into virtually any configuration. It is used on, in, or around products serving consumers, business, industry, health care, research, and the military.
Drawings
Application