Connector Pipe Screen (CPS)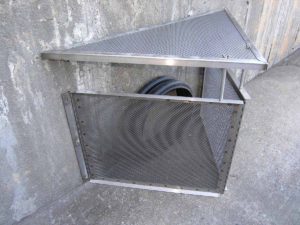 A Connector Pipe Screen (CPS) is a catchbasin insert filter that is designed to capture trash. Unlike other catchbasin inserts that are typically installed closer to the inlet (under the drain grate or below the curb opening), CPS inserts are installed in front of the catchbasin's outlet pipe – trapping trash and debris inside the catch basin while allowing filtered stormwater to exit into the storm drain infrastructure.
CPS insert features:
Manufactured from perforated, 14 gauge, 304 – Stainless Steel sheets
Perforations have a 5 millimeter diameter – screen has an open area greater than 50%
CPS net open area (when converted to an equivalent pipe diameter) exceeds the actual diameter of the outlet pipe leaving the catchbasin – CPS can pass more volume than the outlet pipe it covers
Overflow / bypass prevents flooding if screen becomes blocked or covered
The CPS is manufactured to cover a specific pipe diameter – its size does not depend on the size of the catchbasin drain. The CPS is a compact, affordable product that is easy to install and adaptable over a wide range of catchbasin sizes and styles. The design utilizes very little space, maximizes the trash storage capacity within the catchbasin and allows for easy maintenance.
Images
Literature
Sizing, Install/Maint
Drawings
Specs