Stormpod™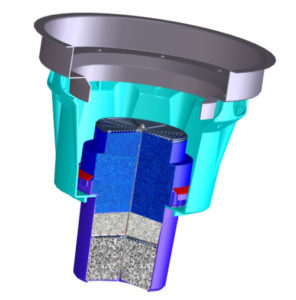 Designed for stormwater "hot spots" including: 
Parking Lots
Transportation Centers/Vehicle Maintenance Facilities
Gas Stations/Fueling locations
Industrial Applications
The StormPod™ will accept any of the Fabco Filter Cartridge configurations, allowing it to effectively treat any of the major pollutants identified in surface water runoff. The StormPod™ is available in both round (23″ – 30″ diameter) and square (24″x24″ and 26″x26″) configurations. Installing the StormPod™ takes only a few minutes. Lift the grate cover from the catch basin, place the insert on the frame and replace the cover.
StormPod™ is factory-sized and assembled prior to shipment.
StormPod™ features:
Aluminum/ HDPE plastic shroud pre-cut to 24″, 26″, 28″ or 30″ Round; 24″-26″ Square
Covered bypass has a flow capacity of >920 gpm while retaining previously captured floatables
Heavy duty injection molded basin has 1.5ft3 capacity
Replaceable filter cartridges target specific pollutants
Perfect for commercial properties, roadways and parking lots
Images
Literature
Sizing, Install/Maint
Sizing
Maintenance
Installation
Filter Config.
Fabco Filter Cartridge
Our filter cartridges are designed to provide effective treatment of stormwater while maintaining high flow rates throughout the life of the cartridge. Filter cartridges are available in various configurations allowing you to fine tune performance in terms of sediments and debris, heavy metals, hydrocarbons/toxic chemicals, pathogens/bacteria and nutrients. The lightweight filter cartridge comes fully assembled and snaps securely in place with a quick twist. The modular cartridge design allows quick and easy replacement while containing the spent material for safe transport and disposal.
2-Stage filtration
Each Fabco filter cartridge is composed of a standard pre-filter section, and a main filter chamber which can be configured to target specific pollutants.
Pre-Filter:
The pre-filter is manufactured using FABGUARD™ antimicrobial treated open cell Polymer foam pads. The coarse open cell foam acts as a mechanical pre-filter for the cartridge restricting coarse sediments, trash and debris while allowing mostly water to flow through. Stormwater passing through the complex cellular structure contacts the antimicrobial treated internal walls substantially reducing the growth and passage of pathogens through the cartridge.
Proprietary Treatment Technologies:
Fabco offers 5 filtration configurations (Standard, HV metals, Pathogens/bacteria, HV Hydrocarbons, Nutrients) using a combination of the following treatment technologies:
FABMAX™:  A chemical treatment applied to our open cell polymer foam filtering media. It is hydrophobic and instantly bonds to any hydrocarbons in the water matrix.
FABSORB™: An oil absorbent fabric material for treating both free and emulsified oils, greases and other hydrocarbon-based compounds. This non-woven, filter  can absorb 10 to 20 times its own weight in oil, greases and hydrocarbons.
FABLITE™: A unique, natural mineral compound that is effective in removing heavy metals as well as low levels of dissolved pollutants like hydrocarbons and other toxic chemicals.
FABPHOS™: A proprietary filtering media that treats soluble, ortho-phosphates in stormwater runoff. FABPHOS also is effective in reducing nitrogen compounds thus assisting stormwater managers meet the >40% N reduction required by many states.
FABGUARD™: Antimicrobial Shield is a chemical technology that when applied to our foam material makes it antimicrobially active. The FABGUARD Antimicrobial Shield becomes an integral part of the material and will not wash out, or leach into the environment. Microorganisms that subsequently contact the material are neutralized.
Currently Fabco Industries offers a variety of filter cartridge types which can be used interchangeably in our StormBasin™ and StormPod™ product lines. Additionally, the compact, versatile design of the filter cartridge is easily adaptable to larger, underground, stormwater treatment vaults allowing the Fabco technology to be used in applications that require greater flow rates and larger treatment capacities.
Drawings