Down Spout
The Fabco Down Spout Filter is designed to treat particulates and soluble pollutants contained in runoff water from roof tops. This product is perfect for industrial facilities that deal with waste treatment, metal recycling etc. Read more about the specific applications below.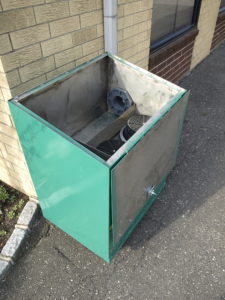 Applications
Heavy Metals: Stormwater can react with metal roofs, metal components or roof mounted equipment releasing soluble metals, such as zinc, copper, lead and aluminum in to the environment. Studies have shown that zinc concentrations in rooftop runoff are substantially higher than those found in rainwater. Elevated levels of zinc in soils can lead to phytotoxicity (poisoning of plant life).
Pathogens: Birds, insects, and small mammals deposit fecal matter on rooftops and in gutters, contributing bacteria and pathogens to runoff.
Hydrocarbons: Polycyclic aromatic hydrocarbons (PAHs), dust and particulate matter from vehicle exhaust and the burning of fossil fuels can collect on roof surfaces, producing elevated PAH levels in runoff.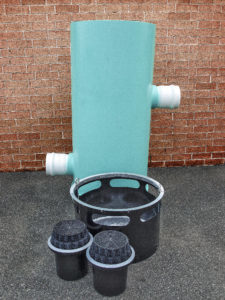 System Overview
Large freestanding filter enclosure offers multiple above ground installation and mounting options
Constructed from 300 series Stainless Steel – powder coated on exterior surfaces only
Overall dimensions: 24 1/8" W x 33 ½"L x 40 3/4" high (standard)
Hinged door panel opens away from the building side and features a latch for secure retention and rubber bumpers to protect cabinet
Stainless Steel mounting surface provides "Twist-Lok" retention and a tight seal
4" PVC inlet/Outlet pipes (standard)
Clean out port provided at the bottom of the chamber for cleanout and dewatering
Dual cartridge filter flow rate can vary depending on cartridge type selected from 120 to 520 gpm
Internal debris storage capacity is 5.0 ft3
Built in high flow bypass is capable of passing 460.0 gpm (1.0 cfs)
Internal debris screen separates inlet side of treatment chamber from the filter cartridge area – coarse screen pre-filters the water helping to maintain treatment flow rate
Images
Filter Config.
Drawings
Literature