Oil Stop Cartridge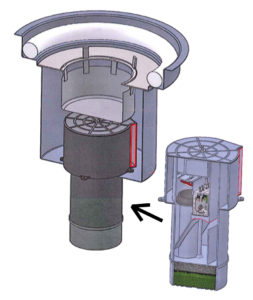 Fabco's entry into the spill protection field has resulted in a uniquely effective system that raises the standard for the industry. The Oil Stop Cartridge achieves a high level of oil containment without the significantly reduced stormwater flow typical of standard polymer-based products. This is achieved through Fabco's patent-pending two-stage oil filtration/stop technology. The Oil Stop Cartridge is ideal for containment areas, maintenance and repair facilities, bulk storage facilities, refueling areas and storm drains with direct outfall to water bodies.
Much of the existing technology in the spill protection industry relies on clotting (or polymer-based) filter media. While clotting systems are effective at preventing accidental oil spills from entering drain systems, they have several drawbacks. Most importantly, clotting systems require low flow rates – stormwater must pass through the polymer media very slowly. Over time, as the media absorbs trace levels of oil or retains sediments, the polymers harden and the flow is constricted even more. Because of the low flow rates, clotting systems often times require a large footprint to slow stormwater down before it reaches the media. This makes clotting systems costly and difficult to install (especially for retrofitting). The Oil Stop Cartridge technology addresses these problems:
Features
Designed for installation into existing storm drain systems
Pre-filtration of sediments with corresponding oil boom
Delivers high flow rates: 100 GMP per Oil Stop Cartridge
Oil sensing technology with integrated shut off valve
Fabco hydrocarbon treatment media
These features allow for superior filtration and oil containment while maintaining high flow rates in a right-sized, cost-effective footprint. Installation (in retrofits or new construction) and maintenance are easy with the Oil Stop Cartridge technology. The Oil Stop Cartridge is designed to rest on the storm drain edge or can be developed for use with Fabco's Expansion Ring, thus keeping existing storm grates flush with the surface. The Oil Stop Cartridge requires minimal servicing with annual replacement of the external oil boom, media filter and monitoring batteries.