StormSack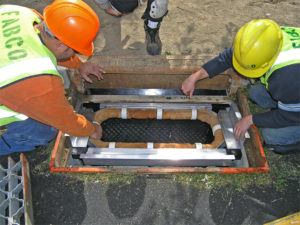 Using the latest in geotextile technology the StormSack offers high flow rates and is equipped with a hydrocarbon absorption boom. Filter bags are supplied with a reinforcement HDPE mesh liner to protect the filter bag during maintenance activities.
Features Summary:
Designed for flat, combination, and open curb drain inlets
Holds up to 1,100 lbs of sediments and debris
Hydrocarbon treatment capability
Durable, aluminum frame with replaceable filter bags – designed to last
Covered bypass retains trash during extreme rain events
Adjustable mounting system
Options include:
Two bag depths 15″ and 30″
Replaceable Hydrocarbon Boom
The StormSack is available in over 400 sizes and comes standard with a patented adjustable aluminum flange.