StormSok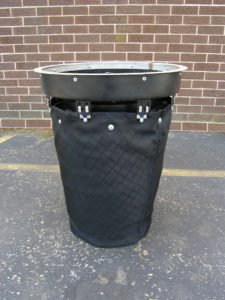 The StormSok is a highly-effective catchbasin insert that utilizes a woven geotextile bag to capture sediment, trash and other debris in stormwater runoff.
The StormSok uses a factory-sized mounting system consisting of an all metal support ring integrated with a plastic body or shroud to fit round grated drain inlets from 23″ through 30″ in diameter. A 24″ x 24″ square size is also available. No adjustments or modifications are required for installation.
All standard StormSok units are shipped fully assembled and include one replaceable filter bag with internal mesh liner and one oil boom.
Features summary:
Aluminum/HDPE plastic shroud pre-cut to 24″, 26″, 28″ or 30″ Round; 24″-26″ Square
Two bag depths: 15″ or 30″ user specified
Hydrocarbon treatment capability
Replaceable filter bags have a HDPE mesh liner for filter bag protection during cleanout
Covered bypass retains trash during extreme rain events
Lifting tabs provided for StormSok™ removal and/or cleanout
Custom sized mounting system
Options:
 Adapter plates for drain inlet diameters greater than 30″
 Heavy Duty all metal mounting systems – recommended for use when the filter system must be mechanically lifted out of the drain for maintenance activities
Heavy Duty 3-layer filter sacks recommended for use when the filter system must be mechanically lifted out of the drain for maintenance activities
Images
Literature
Sizing, Install/Maint
Drawings
Application