Stormwater Treatment Trains
Fabco products can be used individually or in combination to engineer a comprehensive stormwater management plan or "treatment train" to maximize treatment. Whether you are looking for retrofits or new construction, Fabco can design a treatment train for your project – contact us today!
See some common examples of our treatment options below:
StormBasin Cartridge Filter Catch Basin Retrofit
Fabco's StormBasin is a treatment train in and of itself. The large plastic basin captures trash and gross pollutants while the replaceable filter cartridge can be fine tuned to treat: sediment, oil & gas, nutrients, heavy metals or bacteria. A jack of all trades, the StormBasin is designed to treat pollutants at the source – retrofitting into existing stormwater infrastructure.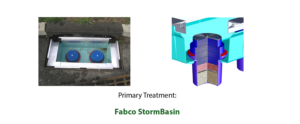 StormSafe / Storm Basin Cartridge Filter with Infiltration
Fabco's filter cartridge technology is a great pretreatment option for infiltration or underground storage. For example, a StormBasin , StormSafe, or even a Fabco Down Spout (for roof runoff)  upstream from a series of R-Tank modules can filter out coarser pollutants to reduce clogging and subsequent maintenance. Fabco's filter bag products like the StormSack and StormSok also work for pre-filtering trash and gross pollutants prior to an infiltration system. Fabco is a R-Tank reseller.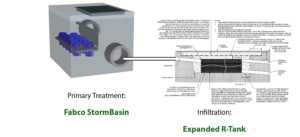 Catch Basin Retrofit with Connector Pipe Screen
Areas or projects with a simple trash TMDL mandate should consider a Connector Pipe Screen or CPS as a low cost option. The metal screen converts the entire catch basin into a receptacle for capturing trash and debris. Fabco's CPS is specially designed for easy installation.

Fabco Complements Biofiltration
Fabco's products are a great complement to green infrastructure BMPs. In the example below, Fabco's StormBasin acts as a pretreatment device for a FocalPoint (biofiltration) installation.  Fabco's Beehive Overflow filter captures floatables from the bypass. Fabco is a FocalPoint reseller.