Introduction
Support Get to know these guys
Jack Markee
With over 30 years of experience, 14 with Fabco Industries, John Markee has proven himself to be a leader both in the office and in the field alike. After earning a BS in Mathematics and Economics from SUNY New Paltz, John earned his first professional position with Veeco Instruments. For 18 years, he was involved in test instrumentation and the semi-conductor manufacturing field, where he was involved in sales and also sat at the helm of a worldwide customer service department. His experience with Veeco was invaluable, and translated into further success once he joined the Fabco Industries team as VP of Sales and Marketing. With Fabco, John oversees marketing and sales, performs product testing and verification, and is also involved in new product and filtration media development. Under his leadership, the company has developed a powerful new website, and several new highly innovative products including the Helix antibacterial filter.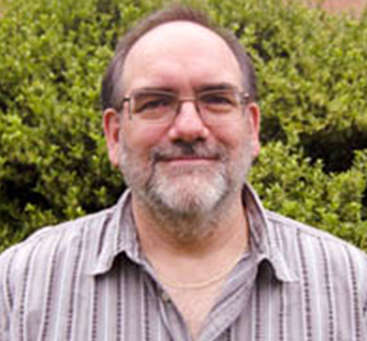 John Peters
Founding partner and Vice President of Engineering John Peters offers a rare combination of expertise and excellent interpersonal skills that has been a major contributor to the success of Fabco Industries. With over 25 years of engineering experience that includes being named on 7 patents, he is responsible for the overall management of engineering and production specializing in both the stormwater and wastewater markets. John began his career as a design engineer directly out of engineering school working on the design and development of aircraft refueling trucks. He later went on to work on flight hardware used on the NASA Space Shuttle Columbia before pursuing ownership of his own engineering company. In August of 2000 his pursuit came to fruition, as he partnered up and founded his current company, Fabco Industries. John also serves a member of the American Society of Metals (ASM).
---
Get to know Fabco Products
The list below takes you to a page about each product we manufacture. Click to read each page.
After each page click on the box beside the product.
Decentralized Products
Centralized Products
Filtration Media
---
The Entire Fabco Product Line And Related Information
Phase 1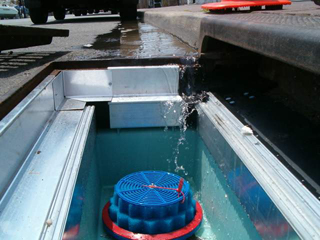 StormBasin
The StormBasin™ is designed to capture and retain stormwater catch basin pollutants namely: sediment, trash, vegetation, nutrients, coliform bacteria, oil/grease and dissolved metals (e.g., lead, copper, cadmium and chromium) Read More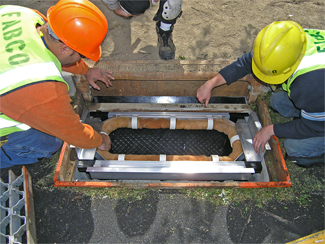 StormSack
Using the latest in geotextile technology the StormSack™ offers high flow rates and is equipped with a hydrocarbon absorption boom. Filter bags are supplied with a reinforcement HDPE mesh liner to protect the filter bag during maintenance activities. Read More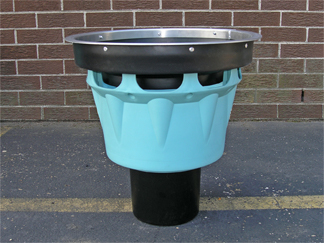 StormPod
The StormPod™ will accept any of the Fabco Filter Cartridge configurations, allowing it to effectively treat any of the major pollutants identified in surface water runoff. The StormPod™ is available in both round (23″ – 30″ diameter) and square (24″x24″ and 26″x26″) configurations. Installing the StormPod™ takes only a few minutes. Lift the grate cover from the catch basin, place the insert on the frame and replace the cover. Read More
---
Phase 2
Trench Drain
The Fabco Trench Drain™ Filter is configured to fit within most flat bottomed trench drain inlets. The simple design traps sediment, trash and debris within the trench while allowing runoff water to pass through the filter and exit through the storm drain system. Read More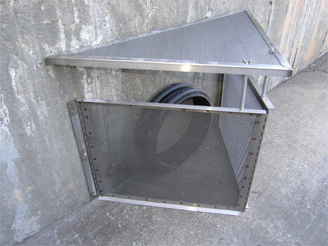 Connector Pipe Screen (CPS)
A Connector Pipe Screen (CPS) is a catchbasin insert filter that is designed to capture trash. Unlike other catchbasin inserts that are typically installed closer to the inlet (under the drain grate or below the curb opening), CPS inserts are installed in front of the catchbasin's outlet pipe – trapping trash and debris inside the catch basin while allowing filtered stormwater to exit into the storm drain infrastructure. Read More
---
Phase 3
StormSafe
StormSafe™ Cartridge Vaults are ideal for small drainage areas that require stormwater treatment beyond simple gross pollutants and trash removal. By utilizing the same proven filter technology from the StormBasin™ product line, the StormSafe™ Cartridge Vault can reduce concentrations of targeted stormwater pollutants in a cost effective manner. This flexibility in design makes the StormSafe™ Cartridge Vault ideal for small parking areas, storage areas that have high concentrations of heavy metals, or maintenance facilities that generate oils and grease loads. The StormSafe™ Cartridge Vault is a good choice wherever treatment flow rates are typically 3 cubic feet/s or less. Read More
---
Phase 4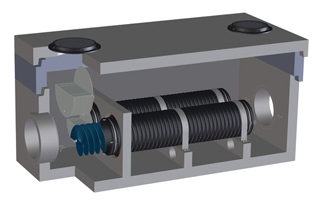 Helix
The Fabco Helix™ is designed with a two-step treatment process that incorporates an inlet chamber used to reduce clogging from sediments and debris, and a secondary treatment chamber that houses Fabco's Helix™ filter elements. Coarse material contained in the stormwater runoff is captured upfront in a chamber designed solely for that purpose. This sediment separator treats water at higher flow rates and can be serviced from surface level with a Vac-truck. The pre-treated water exiting the first chamber will keep the Helix™ filters cleaner, helping maintain flow rates and effectiveness while minimizing the need for maintenance. Read More
---
Phase 5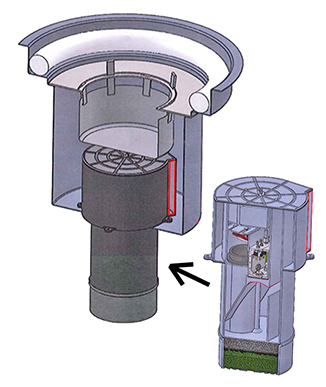 Smart Oil Stop (SOS)
Fabco's entry into the spill protection field has resulted in a uniquely effective system that raises the standard for stormwater flow products. The Smart Oil Stop (SOS) achieves a high level of oil containment without the significantly reduced stormwater flow typical of standard polymer-based products. This is achieved through Fabco's patent-pending two-stage oil filtration/stop technology. Read More
---
Fabco Case Studies